Actif Epica is the 3rd and final race in the Order of the Hrimthurs series and takes place in Manitoba.  This years race took place on Feb 14-16th.  Good thing my wife and I don't celebrate Valentine's Day or I might've been in trouble.  The race course had a major change this year in that it is now an out and back for all distances, meaning we start and finish in Winnipeg.  The course was changed yet again just 2 days before the race with the addition of 4 miles due to some construction.
After finishing Arrowhead 135 just 16 days before the start of this race, I initially wasn't sure what distance I would do.  You can do the shorter 72 mile distance and still be admitted to the Order of the Hrimthurs since that is the original distance when they started the series.  I had signed up for the 100 mile distance initially so my plan was to just see how I recovered from Arrowhead and decide the week before the race if I'd drop down or not.  In the end I felt good enough to go for the longer distance.  I knew it would bother me later in life seeing that asterisk next to my race results saying I did the shorter distance.  In reality there will probably be some other kind of asterisk next to it since the course was changed this year and then changed again to be 4 miles longer.  I knew that at some point during the race I would be mad for doing the longer distance but at least I knew that going into it.
My training for this race consisted of relaxing, LOTS of stretching, making a packing list, and worrying about if I could fit everything into a backpack.  Yep, I forgot to  mention that this race is almost entirely on roads, sidewalks, paths with no snow.  Therefore you need to carry everything on your back somehow.  I don't have a nice large running pack so I just used my 35L Atmos hiking backpack.  It's heavier and not nice to run in but I knew I really wouldn't be running much anyway having just done 2 races before this.  On fresh legs though this would be a fast race if you could pack light.
The gear requirements aren't horrible but in reality you still need to bring what's needed for the race.  This year was going to be windy and cold.  Much colder than the last 2 races this season.  So I needed to bring a lot of clothes and gear to make sure I'd make it to the end while moving slow and not making much heat.  I basically brought everything to Canada including a sled in my car and decided to make final decisions there as to what I'd carry.
Mandatory gear chart 2020 – Sheet1
Like I said earlier, the course had a couple changes just 2 days before the race.  I had already made all my distance sheets and time estimates, etc so now they weren't accurate anymore.  I didn't have time to make new ones so I just had to add about 90 minutes of time to what I was planning.  I still didn't know the final cutoff time for the race at that point but knew it was in the morning.  Finally Thursday at 6AM they published the cue sheets which have the written directions of the course and the cutoff times.  I had the GPS track the day before but you need both for the race.  I quick printed them off, laminated them, and put them on a carabiner so I'd have quick access to them during the race.
AE2020 CP Cut-Off Times – Sheet1
The finish line cutoff was 9AM Sunday!  That's only 37 hours for a 104 mile winter ultra.  While that might seem like a lot, especially for a flat course, in the winter it's not.  Oh, and more importantly, this race starts at 8PM so you'll for sure want to sleep during the race but due to the short time cutoff you won't be able to.  Plan on staying up for 50 hours without sleep if you want to do this race.  No, that's not hyperbole.  This race really seems to be geared toward bikers (it likely is a great race for bikers) who start the next morning.
I drove up Thursday night to Winnipeg.  It's always interesting explaining to people what a winter ultramarathon is.  It wasn't any easier to explain to the border agent getting into Canada.  I assured him I wasn't bringing any weapons into Canada which really seems to be the only thing they care about going into Canada.  I stopped by a bar along the race course that I was planning on stopping at the first night to get water since there wasn't supposed to be any water for the first 33 miles of the race.  I of course had to get some poutine.
I made it to my Airbnb which was super cheap due to the exchange rate.  Basically everything was 25% off in Canada during my stay due to the strong dollar.  I brought everything in, called home, and went to bed with the goal of sleeping for as long as possible.
The next morning I woke up about 7:30AM.  I wanted to drive some of the course to make sure it was as I thought it'd be.  The wind was about 35mph so snow was blowing everywhere.  It was below zero but was supposed to warm up during the day with the South wind.  I drove past kids getting on to a bus at 8:30AM which seemed weird.  Weirder still was all the concrete being poured at construction sites.  They must use some very hot water to keep that stuff from freezing.  Let's just say that winter is definitely not the season to go and visit Winnipeg.  I'm assuming the summer is much nicer.
The course was indeed just gravel and dirt roads.  It was white out conditions so it was kind of hard to drive the course.  I took a photo to show how little I could see.  When I looked at the photo, I could see the road really well.  That was weird.  I put on my polarized sunglasses to see if that was the difference.  Nope, still couldn't see the road.  Somehow the camera on my phone got rid of all the whiteoutness (yep made that word up).  I then started to drive while just looking at my phone.  It was so easy to see the road but felt so weird to be just looking at this small screen.  I had never heard of this effect before but I'm glad I know it now.
What's weird is I never saw any drifts anywhere.  Even in the very few areas with trees, I didn't see huge 10 foot drifts like I would at home with this kind of constant wind.  My only guess is that the trees don't slow the wind down enough for it to drop snow into drifts.  I certainly now knew that pulling a sled was out of the question.
For people unfamiliar with the Red River Valley, which is what the entire course goes near and crosses several times, I'll give you some geology.  It's flat!  Like way flatter than most anyplace.  The Utah salt flats are the only thing I can think of that are flatter and that's not by much.  It's flat because the entire area was the bottom of glacier Lake Agassiz.  Here is a great website to explain it a little bit: https://mrbdc.mnsu.edu/minnesota-river-valley-formation .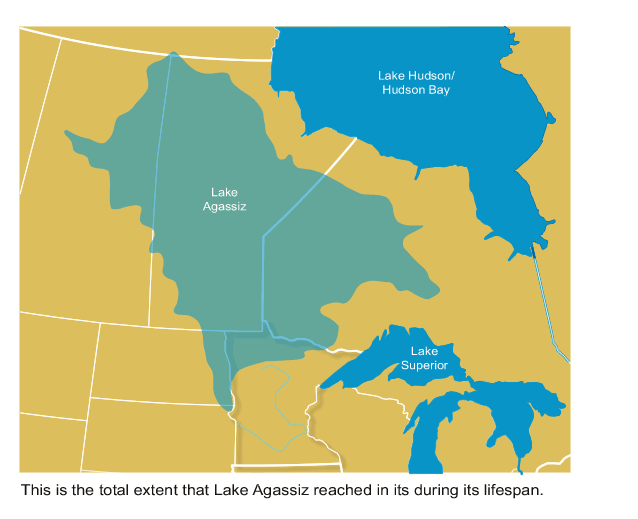 As you can see, it was gargantuan in size.  It burst it's banks on the Southern most point and created the River Warren in about 2 weeks times.  We're talking over a mile wide and about 600 feet deep river.  The Minnesota River runs in the same valley now but is minuscule in size competitively.  Anyway, if you've ever driven through any of that area of MN or Canada where the lake was, you know how flat it is.
When the Red River floods, it spreads out a large distance due to this flatness.  Every town is either protected by a dike system or the houses are built up on man made hills.
Here are some more photos I took of the course on Friday morning.
I got back to where I was staying and started to really pack my backpack with what I thought I'd need based on the weather forecast.  Basically it would get to about -18F the second night and be really windy and cold on Saturday.  The first night would be pleasant.  So I'd need lots of clothes at the end of the race but not much to start with.
Gear check started at 3PM so I got there first thing to pick up my bib and check in.  Gear check was pretty laid back which was nice.  While this is still a winter ultra, the entire course had cell phone coverage, lots of aid stations, and while you can get lost on a road, you're still on a road which means civilization is always near by.  This all makes this race much safer than any other winter ultra, hence the limited gear requirements.  Gear check is under the CN Stage at The Forks which is where the Red and Assiniboine Rivers meet.  It looks like a big dressing room with a wall of mirrors and lights for putting on makeup.  This is also the Start and Finish line of the race.  We got a toque for some swag and I also won a pair of running sunglasses in the raffle.  I need a pair so I hope they work great.
The required pre-race meeting started at 6:15ish PM at the Forks.  Not being a local, I had a hard time figuring out where to park with the passes and where the meeting was.  I didn't get towed so I must've been in the right spot.  It was basically the open lot parking lot across the street from the Human Rights Museum.  The meeting is in the building that says Forks Marketplace on it and on the second floor.  If you are in the building with lots of little food places, you are in the right place.  It was a pretty short meeting.  We found out we had to go together for the first 1km for safety and then we could start racing.  Ha!  Like us runners would take off like that.  Certainly that was geared towards the bikers.  Similarly, there was a spot over a mile from the end of the race that was the "finish line", meaning whatever place you were in at that point you had to maintain until the end of the race.  Again, I'm sure it was geared more towards the bikers not going crazy trying to pass each other on crowded narrow trails through town.  In the end it didn't matter for us runners but it did seem weird to finish a race almost 20 minutes after you passed the "finish line".  The turn around location for us 104 mile runners was a stuffed animal tied to a pole along a river and we'd have to take something from there to prove we were there.  It ended up being a kit kat bar.
After the meeting I talked with fellow Hrimthur runners about the "fun" that was about to begin.  I had by far the biggest pack.  Some volunteer made the often heard comment "You pack your insecurities".  Well considering in 3 of my 6 winter ultras up to this point, I had on everything that I packed at some point in the race, he was wrong.  I knew I'd need almost everything I had.  Plus we weren't really sure if we were allowed to wear your emergency clothes during the race.  Some people's emergency clothes were a joke in my opinion and would do little to keep you warm.  Basically they just had another shirt and tights.  I went back to my car to get a little food and make one more pack adjustment to get the center of gravity much lower.  My pack weighed almost 21 pounds at the start.  With a lighter backpack and warmer year, it could be 5 pounds lighter at least.
Before I knew it, it was almost race time and I had to hurry to the stage for the race start.  The start was like many ultras in that it was just heading out the door and saying "go".
There were 8 of us that started.  We were all talking about where we were from and who was going for Hrimthurs.  Paul and I had spent 13 hours talking at the end of Arrowhead so we knew each other pretty well already.  A couple others I knew just of their name.  We got across the busy road at the 1km spot and we were off.  Not.  We just kept going together for probably a good 4 miles before anyone took off.  We ran a bit here and there but it really sucked with a 20 pound pack on tired legs.  We walked over 4 miles an hour which was plenty fast.  I would've preferred going a touch slower but I wanted to stay with the group since there are a lot of turns in the 14 miles or so of town.
I'll just say here that you should plan on taking a wrong turn somewhere during the race.  Even the local Winnipeg guys took the wrong turn a couple times.  The ideal would be what Patty had which was an app that just told you where to turn from her phone in her pocket.  That way you didn't have to dig stuff out all the time to see where you were and read where to turn.  It gets hard to read small font in the dark when you haven't slept for over 40 hours as well on the second night.  I only got lost a couple times and none were horrible.  One guy ended up quitting after a wrong turn because he couldn't handle it mentally from what I heard.  That sucks.  Going 70 miles and then quitting.  I understand it though, I was pissed before the race about the extra 4 miles, it would be tough adding a couple more on your own mistake.  Being an out and back helped some too as things would often look familiar.  The problem was when it DIDN'T look familiar, then I'd worry I made a wrong turn.
Anyway, a bit later, 2 more people took off leaving the 5 of us going together.  We'd often pair up and have conversations.  Then switch positions and talk to someone else.  I was surprised how few people we saw out and about since it was Valentine's Day and they do celebrate that in Canada.  Perhaps they don't like to take walks in the winter.  I never saw a single person walking on any of the sidewalks or paths through town.  Not even to walk a dog.  There were  a few people when we went past the U of M campus.  I guess it was pretty late at night though.
We got to the bar at mile 14 but I had water so I kept on going.  Plus we were told at the meeting that there would likely be water at the first aid station but it wasn't guaranteed.  Soon after is where you get out of town and the trees.  Now the full wind could be felt although it was very little by this point at night.  Still very pleasant and I still had on light gloves and no wind protection layers on.
Because of the course change, the way to the first aid station was turned into an out and back spur.  So we were doing an out and back spur on an out and back race.  Things often felt so pointless.  Whoever made the Crow Wing Trail (which is what we were basically following) didn't like to take the shortest path to anything!  Here is a general overview map to get an idea of what I mean.
We actually took a different path to Crystal Spring from Niverville but came back on the path you see.  The point is you can see many roads that would cut a great distance off if your goal was simply to get from The Forks to Crystal Spring.  You can find the actual GPS track on the Actif Epica website.
The first aid station was almost 19 miles into the race and called Fraser Rd.  There was a porta-potty, fire, and shed that had some snacks and some Coke.  I had a can and I think some chips.  I loaded up with some more water and put on my semi-wind proof jacket on.  I think I got warmer gloves as well.  We would now be going into the wind for the next 14 miles to the St. Adolphe curling club.  Canada seems to have curling clubs like we have bowling alleys.
We got there at 1AM and left 10 minutes later.  We went back the way we came due to the construction and made the turn South on the bridge across the flood-way.  The couple guys that were ahead of us before, all of a sudden came up behind us after the bridge across the flood-way.  They had not taken the turn and probably added a mile or more to their race.  Now we were 7 strong again for a time.
The road sections weren't bad.  We could kind of turn our brains off as you basically would go for miles before a turn and then miles until the next turn.  My shoulders didn't hurt as much anymore.  They hurt like crazy for the first 6 hours but then just got used to it I guess.  I normally thermoregulate by running when cold and walking when getting hot.  With the backpack though, that wasn't much of an option.  It just hurt too much on my feet and back to run.
We got to the curling club at 5:23AM  Everyone but the leader was still there when Chad and I got there.  I checked on my feet and added some more Vaseline since I could feel a couple hot spots starting.  I also ate a cheeseburger a volunteer had and reloaded my water.  I didn't need much as the next aid station was only 7 miles away.  I spent 30 minutes here which is about what I expected.  Chad, Patty, Simone, and I left together at 5:53AM.
I'll say here that the volunteers at this race were excellent.  Most went far above and beyond what was needed.  I'll be so bold as to say you probably could've gotten one of them to wipe your butt if need be.  Gross I know, but I think it gets my point across.  I think it was either at St. Adolphe or for sure by Niverville that I first experienced a volunteer coming up to me to take off my pack.  The first time seemed kind of weird, like why are you invading my space to help me do something I can handle myself.  That changed real fast though.  By Crystal Springs, I couldn't wait for a volunteer to undress me.  In my head I was like "Oh yeah, take it off."  At least I hope I never said that out loud.  It felt so good to get that pack off the second you walk into an aid station and not have to fumble with it yourself!
The road South to Niverville seemed to take forever but we got there in 2 hours.  The sun came up during this time.  I was still tired even with the sun so I took my first 100mg of caffeine.  I hadn't had any caffeine since Arrowhead and I slept as much as possible in the weeks leading up to the race to help my chances of staying awake for the entire race.  While initially I had planned on sleeping a little bit as some point, it was clear that there wasn't going to be any time to sleep once they added the 4 miles and didn't add any time for it.
The aid station was the Niverville Hockey Arena.  They had the best perogies I've ever had at this aid station.  They topped them with sour cream, cheese, and bacon.  I think I had 8 of them.  I was here 25 minutes.  It would've been shorter if not for the awesome food.
We left at 8:23AM and it was now getting windy.  The temperature was already dropping but it would continue to drop throughout the day with a strong mostly West wind.  We had gone 40 miles and had about 9.5 miles to Crystal Springs.  While it was nice to have the sun out, the wind sucked.  I put on my wind jacket and more wind proof gloves.  We still banded together for the most part but we talked less now.  It was hard to hear with the wind anyway.  We tried to help a volunteer get his van out of snowdrift on one of the roads but he was really stuck.
This is where you start going on actual dirt roads.  I'm talking heavy black field road dirt.  I was all of a sudden very glad it was cold.  This stuff would stick to your shoes like crazy if it was near freezing with the sunshine.  There were miles of it.  The first couple bikers passed us in this section.  With a tail wind in spots they were probably going over 20mph at times.  The last section going West into the wind by Crystal Springs was tough.  My hood was making vibrating sounds it was so fast.  I'm guessing around 25mph based on the snow starting to blow and having to lean into the wind just to walk.  Finally I had to run the last mile or so into the aid station to warm up a bit and left them behind.
Or so I thought.  Chad was sitting in a chair when I got there.  I guess he got in a vehicle and quit a couple miles back.  I thought he was right behind me the whole time.  I only spent a couple minutes here.  I was going to do the out and back to the turn around point quick and then spend more time when I got back.  I took off alone.  About the time I was leaving the complex, the first place runner was coming back.
The out and back was almost 6.5 miles long along a river.  It wasn't as fast as the road of course but it wasn't too bad.  I got lost once while getting to the river but it wasn't too far.  I saw the other 2 runners still ahead of me when they were going back.  It was easily the prettiest portion of the race.  I got my kit kat bar and turned around.  Now the main pack of bikers were coming slowly.  The snow was slowing them down significantly.
I returned to the Crystal Springs aid station at 1:30PM, just over 2 hours after I left.  I took some time here to eat, pop my heel blisters that formed from all this walking, change socks, charge my watch and headlamp, and get water.  All in 30 minutes with the help of the awesome volunteers.  In fact I was catching up to the runners in front of me, not because I moved faster but because I didn't spend as much time at the aid stations.
If I thought the wind was bad before, it was worse now.  Full on straight into the wind for long sections.  The temperature was also dropping.  It was probably around 10 degrees at most.  With the windchill it was probably -20F.  I wished I had put my wind pants on and almost turned back to put them on.  I didn't though and just kept on going.  I put on my face protection bands I made this year and they worked well.  I basically just kept my head down and looked up every once and a while to make sure I hadn't somehow missed a turn.  They always took much longer to get to than I wanted.
There is this weird area on the way back to Niverville (remember we go a different way) that has the road take these 90 degree turns and then a random slight turn onto an unused field road or old trail.  The 2 guys in front of me missed the turn.  I tried to get their attention by yelling and using my whistle but they couldn't hear me since I was yelling into the wind and they were  a ways ahead of me.  Eventually they figured it out and started coming back.  Just like that I was somehow in 3rd place.
This angled trail section was almost 2 miles of post holing straight into the wind.  Every once and awhile the drift would be hard enough to walk on for a step or 2.  Just enough to somehow make it worse than just post holing the entire way.  I tried to just think to myself "light as a feather" as if that would somehow not make me sink.  I pretended it worked.
Finally we got to some trees and then went with the wind into Niverville.  This was again a long boring road.  There was one place that had a bunch of corn spilled from harvest time.  In the months since, not a single animal had bothered to eat it.  Apparently no deer, birds, mice, etc live in the area.  Once in town the rest of the race would be on roads I've already traveled.
I got to the aid station just as it was getting dark at 6PM.  While I would've loved to sleep here, there was no time.  I spent 45 minutes getting a bunch of stuff done.  I basically was getting ready to go the entire 36 miles straight through if need be without stopping.  I ate a bunch more perogies, added layers of clothes, got my headlamp out, charged my watch, changed my socks one more time, and did a lot of math about my chances of finishing the race in time.  There was little room for error.  14 hours seems like a long time to go 35 miles.  When you've already gone about 70 miles and haven't slept for 36 hours already, it's not.  There was a real likelihood my speed would drop below 3mph.  Nothing to do but try.  I left with Paul.  We would essentially do a repeat of Arrowhead and finish the last 13 hours together keeping each other awake.  I'll quickly add that I was happy I brought all the clothes I did.  I know Paul had to lend someone some mittens since they hadn't brought any.  It was getting much colder now but the wind was subsiding at the same time.
We were going pretty slow it seemed to get to St. Adolphe.  We got lost trying to find the dike we were supposed to take to the curling club.  It was so frustrating.  We saw the runner in front of us on a dike that ended up being the wrong one.  He was long gone by the time we realized it was the wrong one, he ended up quitting.  We could see the curling club in the distance but couldn't find the right path.  The GPS made it seem like we were right there.  Finally we figured it out after going through some deep snow and got to the aid station at 9:20PM.  Paul and I didn't need anything but water as it had only been 7 miles.  There was some confusion I think as to who we were, likely because they were expecting the lost guy instead of us.  We were only here 5 minutes.
This section into town was cold and boring.  I took more caffeine and it was working.  While I was tired, I wasn't swerving all over the place or hallucinating.  Paul was worse off so we tried to keep talking.  I think after these 2 races we could do well in a gameshow where you have to know stuff about the other person.  While it wasn't all that windy, it was definitely colder so any wind felt bad. I was close to having to put on my emergency clothes but we didn't know if we'd get disqualified so I really didn't want to.  There were race cars (cars involved with the race) almost constantly now passing us or meeting us at most turns.  I asked one of them what the temperature was and he said whatever being the equivalent of -18F degrees which was already colder than they had forecast he said.  The coldest the windchill got was probably around -35F since it doesn't take much wind at all to get to that.  Running into a slight breeze will get you there easy.  It was about 1AM.  The wind had slightly shifted to the Southwest now.  It was in our face but I was hoping that meant a warmer air mass was moving in and it would not get any colder.  I ended up being right.
It was easier to stay awake in town due to all the turns and distractions.  With all the trees now, it also felt warmer.  We no longer were worried about having to put on our emergency layer.  The women passed us just in town.  They were definitely moving faster than us.  More bikers were finally passing us as well.  I thought they would've passed us hours ago.  We got to the U of M aid station at 3:37AM.  Just over 10 miles left in the race.  We didn't have much to do here.  I wanted some new warm water and changed out my wet face coverings for my last fresh one.  We also went to the bathroom which was of course down a hall and stairs.  Ugh, stairs suck!  We hit the bathroom stalls and almost simultaneously said we could fall asleep on the toilet in a second.  It was so comfy and quiet.  We stayed awake and left the aid station after getting our packs on one last time at 3:58AM.  5 hours to go 10 miles.  The women were still drying off some clothes so we ended up leaving before them.
The next 8 miles seemed to go fairly quickly in my head.  We were doing well not to get lost.  There was a race car seemingly at every turn.  He'd almost always ask our numbers, as if he couldn't tell we were the same 2 people he talked to 5 minutes ago.  It was like we had our own personal stalker.  I'm sure it was to make sure we didn't cut the course or something but it was kind of funny.  He was seriously at every turn for about 4 miles.   Finally we got to the trail along the river section.  The bike tire tracks made it pretty easy to tell where to go from now on.
We kind of felt like running, I think mostly just to get the race done with.  We ran probably over a mile.  Now I was nice and warm the rest of the race even though it was still -15F.  We got to the "finish line" area where we weren't supposed to pass anyone anymore.  I think it was still almost 2 miles to the actual end of the race though.  We started seeing more race volunteers as we go to the busy road, bridge and Forks complex.  There was either 1 or 2 other races going on as we got closer to the Forks.  I think it was a half marathon and maybe a 10k.  Runners were constantly coming at us from the other direction.  Everything seemed different to me than it was 35 hours ago when we left this area.  Eventually we could see the CN stage and made our way into the true finish line / dressing room.
We finished at 7:32AM Sunday so 35:32 for the race.  We were third.  The trophies for us last 4 runners were waiting on the table along with a couple people.  It was awesome to get our pack off one last time!  We got our pictures taken and waited for Patty and Simone to finish a few minutes later.
We talked for a bit while trying to stay awake.  Simone still didn't seem to understand what the Order of the Hrimthurs was that she just got.  I think it was mostly just a language barrier thing but we found it kind of humorous since at the beginning of the race she made it seem like she had no idea about it.  Like it was the first time she had ever heard about it, and perhaps it was.
We headed over to the Marketplace to eat some breakfast.  I just ordered a bunch to use up my Canadian money.  It was good but I couldn't finish it all.
I took a shower at Paul's hotel and then took off for home.  I always bring an inflatable mattress and blankets along.  So I sleep in the car until I wake up, usually about an hour.  Then drive until I'm tired, and go back to sleep again.  I slept twice before I got to the border.  There was a long line of cars.  I somehow picked the slowest line.  Once I finally got to the agent, I found out why.  He was super chatty.  He wanted to know way more details than necessary to find out what I was doing in Canada.  Like how long I've been doing winter ultras, how we ate, how we slept (we don't), what we wore.  I don't even think he asked me a single question about if I was bringing anything into the country.  Finally I got back into the USA.  It was supposed to snow overnight so I continued my sleep/drive cycle until I got home around 1AM.  It ended up not snowing until noon but we got 10 inches so I was glad I got home.
Looking back I'm very glad I did the longer distance.  I was indeed cursing myself several times during the race about that decision.  Mostly when I realized how close to the cutoff I'd be, and also when my flexor tendon hurt so bad I essentially couldn't run the last 35 miles.  I hope they change the start or cutoff time some for the long distance run.  I didn't get to sleep until about 51 hours and that's crazy long.  On the plus side, my plan of getting lots of sleep and not having any caffeine before the race seemed to work.  I don't think I have any desire to do this race again anytime soon.  It would be a great starter race for a bike though I think.
Here is a great video of the race with us 104 mile runners.  I couldn't embed the video so you might have to watch it on Facebook itself, sorry but it's worth it.
https://www.facebook.com/plugins/video.php?href=https%3A%2F%2Fwww.facebook.com%2Fjcholowka%2Fvideos%2F10162975495590484%2F&show_text=0&width=560
I put screws in my shoes to help with the icy roads and sidewalks.  They were pretty worn down by the finish.  Enough that they didn't do that well on pure ice anymore.
In the 3 races combined I covered 400 race miles in 7 weeks.  That's plenty!  Not many people have finished the Order of the Hrimthurs on foot.  I think 11 different individuals have finished in the past seasons total.  I'm pretty sure 5 of us over the different distances finished it this season.  I'm actually feeling pretty good already other than my shoulders.  Now it's time to loose weight again for the rest of the season.
The end.